New think tank report identifies Faradion as a high-potential cleantech company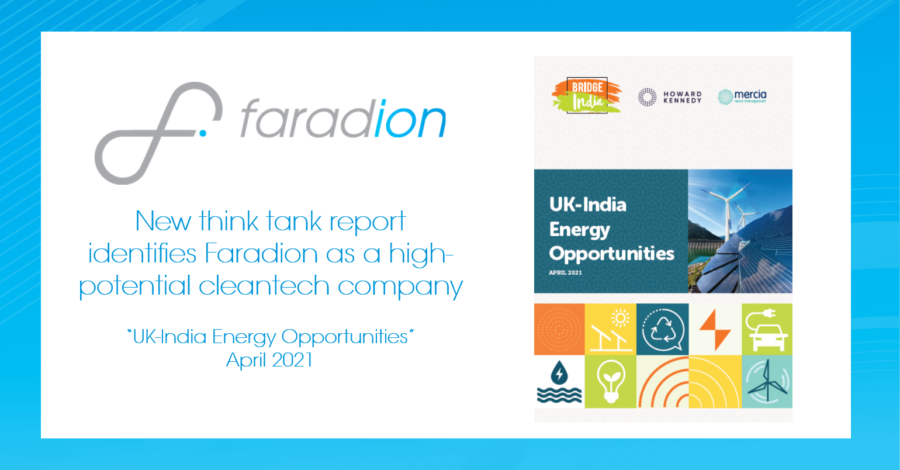 LONDON, 22 APRIL 2021: A new report by leading think tank Bridge India highlights Faradion as a successful example of close energy sector collaboration between the UK and India.
Bridge India interviewed investors, government stakeholders and businesses in both countries to create a comprehensive look at how to turbo-charge bilateral trade and investment.
The report is being released just before Prime Minister Boris Johnson travels to India to meet PM Narendra Modi to talk about closer collaboration in energy and cleantech.
The report identifies a huge market opportunity for British SMEs to innovate in the UK, and grow in India. It features the work of Faradion, the world leader in sodium-ion battery technology, which is in advanced discussions for several orders for its batteries from India.
The report highlights Faradion as one of the leading case studies of a British company expanding overseas, through its successful collaborations in India.
The British High Commissioner to India, Alex Ellis CMG, said of examples like Faradion, in the report:"Our businesses and innovators are an actual and potential force to, for example, develop smart tech and energy systems, increase manufacturing for the renewable and storage industries, and prepare for new electric mobility. There's a lot to do. By working together, we can get the UK, India and the world on the track to clean, affordable energy."
Gaitri Issar Kumar, IFS, High Commissioner of India to the UK, said:"I congratulate Bridge India for their initiative in bringing out this Report on the potential of India-UK collaboration in the energy sector. It is a timely and welcome addition to the relevant information base," she added.
The UK's recently announced Ten Point Plan for a Green Industrial Revolution seeks to make the UK a global leader in green technologies. Faradion is fully supportive of the Government's efforts and looks forward to engaging proactively in the lead up to COP26 in November 2021, which will come towards the end of a year of significant growth for the company.
You can read the full report here.
Our CEO James Quinn took part in the report launch, which you can watch on YouTube here.